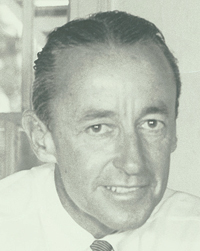 Photo courtesy OBM International
Bermuda's best-known and most influential architect of the 20th century, Wilfred Richmond "Wil" Onions was instrumental in developing the revivalist Bermudian vernacular style that came to define the island's architecture and inspire Bermudian architects long after his death.

Taking the traditional Bermuda cottage as inspiration, he designed graceful houses with large, well-portioned rooms and bearing his trademark features such as high, graceful chimneys; long flowing rooflines; buttresses; large doors and windows; 'welcoming arms' staircases and airy interiors with high tray ceilings.

His designs include some of Bermuda's best-known properties commissioned by   prominent families. They included Chelston, the former U.S. Consulate in Paget; Buttonwood and But 'n' Ben in Tucker's Town; Woodstock Cove, Paget; Crow Lane House, Paget; The Quarries, Pembroke; and Socatean Ledge, Somerset. His most famous landmark is City Hall in Hamilton, although he tragically died before it was completed in 1960.

Mother

Onions was born on September 29, 1908 at Melville Cottage in Mangrove Bay, Somerset. He was the only son of Henry "Harry" Onions, a haberdasher who owned a store in Somerset village, and his Scottish wife Mary, and had three sisters Hilda, Edith and Frances.

The family moved to Myrtle Cottage in Long Bay Lane, Somerset, and Henry renamed the house Aberfeldy after his wife's hometown, a small Highland market town on the banks of the River Tay in Perthshire, Scotland. Onions later renovated the house, which had originally been built in 1800, and lived there with his mother until his death.

With a natural gift for drawing, Onions had set his sights on becoming an architect while a student at Bermuda High School and Saltus Grammar School. He studied architecture at McGill University in Montreal, Canada, winning the McLennan Memorial Scholarship in 1932, a $1,000 award specifically for travel overseas to study architecture.

The subsequent trip that Onion made after graduation was to prove a major influence on his career. He spent nine months in 1933 touring northern Europe and Britain, exploring the colonial roots of Bermuda's traditional architecture. In particular, he was influenced by English architect Sir Edwin Lutyens (1869-1944) and Ragnar Östberg (1866-1945) in Sweden, whose work drew heavily on traditional and classic design and craftsmanship.

Lutyens, whose major works included New Delhi, the Cenotaph in Whitehall, London and the Memorial to the Missing of the Somme, Thiepval, designed private houses in a mock-Elizabethan style.  Östberg's 1923 masterwork, Stockholm City Hall, with its distinctive tall tower, was to later influence Onions' designs for Hamilton's City Hall.

Commission

Onions received his first commission in 1928 while he was still at university. Prominent businessman J. B. Astwood asked him to design a house as a wedding gift for his son Jeffrey "Curly" Astwood, who was engaged to Wil's sister Hilda. The house, Coral Chimneys, on Point Finger Road, Paget, has since been extensively altered, but the façade remains much as Onions designed it.

In 1929, Onions had the second of three near-death experiences. As a teenager, he had clung to the bottom of a capsized boat for two days following a storm off Somerset Island.

On December 18, 1929 he was returning to Bermuda from New York on board the Furness-Bermuda liner SS Fort Victoria, when it was hit by another steamship, the Algonquin, in thick fog at the entrance to the Ambrose Channel, off Sandy Hook, New Jersey. Onions and 370 other passengers and crew were rescued by the US Coast Guard and ships in the area. 
In 1935, he fractured his neck after falling from scaffolding three floors up while inspecting renovation work on the Hamilton Hotel. The accident left him with a slight tilt to his head.

Partnership
On his return from Europe, Onions was employed by architect Lawrence Smart and also began researching traditional forms of Bermudian architecture. With the help of his sisters Edith and Frances, he meticulously measured more than 100 old structures across the Island, gaining an extensive knowledge of construction and detail.

In 1936, he formed a partnership with Valmer Dudley Bouchard, a young Canadian architect whom he had met at McGill, inviting him to Bermuda to form Onions & Bouchard. The firm became Onions, Bouchard & McCulloch with the addition of John McCulloch in 1953, and is now known as OBM International, one of the Island's largest and most successful architectural companies.

During the 1930s, the firm carried out mainly residential designs and minor alterations and renovations, including Cork Tree for American children's author Munro Leaf, creator of the character Ferdinand The Bull, and a major restoration of Stennetts Hotel in King's Square, St. George's (now a branch of Butterfield Bank).

Prominent

The most prominent Onions building of the 1930s was arguably Chelston, on Grape Bay Road in Paget. It later became the official residence of the U.S. Consul for many years.
A long, low house, Chelston's steeply-pitched roof balanced by huge, solid chimneys and spacious interiors bore many of the distinctive elements of Onions' early vernacular style. The property is a fine example of Onions' sensitive approach to complementary landscaping, with terraces sweeping from the ground floor down to the ocean.

Onions also paid great attention to interior woodwork and design, often designing Bermuda cedar doors, beams and fireplace surrounds for clients himself as well as and furniture in his trademark spool pattern with onion feet.

In 1938, the firm won a competition held by the Corporation of Hamilton to design a new city hall. However the Second World War meant that construction of Onions' winning design, largely based on Östberg's superbly portioned Stockholm City Hall, was never started and it would be 20 years before work finally began.

Renovating

During the war, Onions and Bouchard dissolved their partnership and Onions was employed as resident architect at the Royal Naval Dockyard, renovating barracks and major buildings such as Commissioner's House, The Admiralty and The Cottage, the official residence of the commanding naval officer, for wartime use.

The war years also saw Onions design and build a number of church vestries and additions. Works included St. James Church in Somerset, St. John's in Pembroke and St. Paul's in Paget, with Onions often carrying out the work for little or no fee.

Onions and Bouchard resumed their partnership after the war and as Bermuda's economy thrived, they built around 50 houses in just six years for some of Bermuda's wealthiest families.

Notable buildings included Buttonwood, built for Sir Eldon Trimingham in Tucker's Town and based on Crosstrees, an abandoned old traditional Bermuda cottage near Mid Ocean Golf Club's fourth fairway, that also influenced another of Onions' Tucker's Town cottages, But 'n' Ben. Other major works included Crow Lane House on Harbour Road, Paget, with its distinctive Palladian baroque façade, built for the Van Clief family; Woodstock Cove built for deForest "Shorty" Trimingham; and Socatean Ledges in Somerset.

Lucrative

The early 1950s saw a slowdown in residential work but was offset by lucrative commercial work as the tourist trade boomed. Onions was responsible for major renovations to the Mid Ocean Club, Pink Beach, Lantana, Cambridge Beaches, Horizons, Newstead, Waterloo House and Elbow Beach as well as redesigns for Trimingham's and Smith's stores, the Bank of N. T. Butterfield and Gosling's, Frith's and Lighbourn's liquor stores.

Onions had little interest in the commercial work and gradually relinquished much of the work to Bouchard and McCulloch, especially within the city limits where his designs were constrained by strict new laws implemented by the Building Authority.

His last—and arguably most lasting—work in Hamilton was the long-delayed City Hall.
In 1954, the Hamilton Hotel, which stood where the current City Hall now stands, was destroyed in a fire. The Corporation decided the central location would be ideal for City Hall and held another design competition in 1956.

Onions submitted two designs, one based on his original 1938 entry and a more modern version. The older design won and work began in 1957. Bill Harrington, designer and court painter to King George VI, collaborated on the interior design.

However the project was dogged by a series of problems. Onions' design featured massive Bermuda slate roofs and as they heaved with the settling in of the timbers and expansion and contraction of the steel girders, there were continuous leaks—a problem that was not solved until after Onions' death. On top of that, the contractors (Post Andrews), having grossly underbid the project, went into liquidation.

Depression

Meanwhile, Onions was having long-running problems with a residential project that led to long bouts of depression and may ultimately have contributed to his death.
 
He had been at odds with an American client, Daly King, for a decade over his plans for Per Ketet, a three-storey house on Wreck Hill in Somerset overlooking Ely's Harbour. King insisted on the house being built of concrete block rather than Bermuda stone, replacing wooden windows with more aluminum ones and a cantilever balcony instead of walled terraces—changes that offended Onions' aesthetics. Onions' problems were compounded by King's refusal to pay either him or the contractors as construction costs increased.

As well as the pressures of work, Onions—who never married—was known to have been deeply depressed about the sudden departure from Bermuda of his close friend and confidant, Packwood Hunter, a Californian designer who had joined OBM in the early 1950s.

On July 2, 1959, Onions took his own life at his Aberfeldy home. He was buried the following day at St. James Church in Somerset.

City Hall was completed after his death, opening on February 11, 1960, as was Per Ketet.

Artistic

In addition to his prolific architectural work, Onions was an enthusiastic member of the Island's artistic community. With Gilbert and Arthur Cooper, he had been a member of the successful Harem Scarem revue that ran from 1923 to 1948 and That Somerset Lot, a popular west end group which performed skits and songs.

In 1978, a plaque at City Hall in Onions' memory, was unveiled by Sir Gilbert Cooper and other former Harem Scarem members. Onions received another posthumous honour in 2001 when the Bermuda Society of Arts renamed its main gallery in City Hall the Onions Gallery.

In 1991, friends and family established the Wilfred Onions Memorial Prize at McGill University that "commemorates his passion for sketching and life-long commitment to the profession of architecture" The annual prize is awarded to the student with the best single work in the School of Architecture's Sketching School.

Onions' immeasurable contribution to Bermuda's architectural and artistic heritage and culture was further recognised in 2004 when he became a posthumous recipient of the Bermuda Arts Council's Founders Award.
by Chris Gibbons