Brian Burland was the first Bermudian to leave his mark on the literary world as a novelist. He was the author of eight novels that were praised on both sides of the Atlantic and a much-loved children's book St. Nicholas and the Tub.

Bermuda almost always figured his novels, which occasionally ruffled feathers locally.  His novels dealt with war—which he opposed—colonialism, family strife and race. The language was salty, the Bermudian dialect pitch perfect, and the sex scenes explicit. He won admiration and respect for his honest portrayal of a segregated Bermuda.

During the years he was most active as writer, Burland lived outside Bermuda, mainly in Essex, Connecticut. His accomplishments were largely unrecognised in Bermuda, although that began to change in his later years.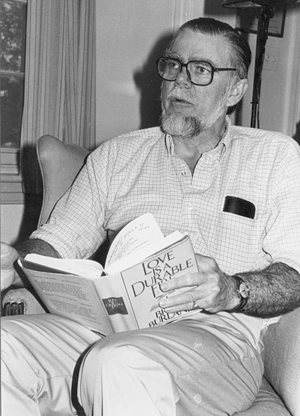 Celebrated American writer and humourist Mark Twain cut short his winter sojourn in Bermuda and set sail for the U.S. because of declining health. He died nine days later at his home in Connecticut at age 74.

Twain had developed a deep love for Bermuda since his first visit in 1867. He visited the Island eight times. He loved its peace and tranquility, enjoyed the company of fellow visiting U.S. writers and dignitaries, including future president Woodrow Wilson.

He became involved in the life of the Island, lobbying against the introduction of motor cars and giving public talks to raise funds for the Cottage Hospital and the Bermuda Biological Station. He famously once said of the Island: "You can go to heaven if you want —I'd druther stay here."