Theologian, educator and author Francis Landey Patton—after whom Francis Patton Primary School is named—served as president of Princeton University in the US for 14 years.

Born and raised in Warwick, he attended Warwick Academy and received his early religious education at Christ Presbyterian Church before continuing his studies overseas. Following his ordination in 1865, he received his first posting as a minister at the Eighty-fourth Presbyterian Church in New York.
He began his career as an educator at McCormick Theological Seminary in Chicago and was appointed Princeton's president in 1888.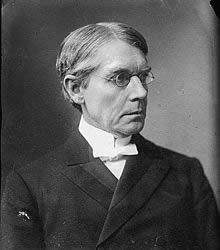 The flying boat Cavalier, one of the most luxurious airliners of its day, crashed into the waters of the Atlantic, two hours after it took off from Port Washington, New York bound for Bermuda.

Three of the 13 passengers and crew died within the first few hours of the crash and the remaining 10 spent a harrowing 11 hours in the open sea, 388 miles off Bermuda, awaiting rescue.

Montrealer Edna Watson (pictured right), a physiotherapist who had lived in Bermuda since the 1920s, emerged as the heroine. She saved the life of captain Roland "Roly" Alderson, by helping to keep him afloat after he gave his life preserver to another passenger.