Charles Lloyd Tucker was Bermudaís first black professionally trained artist and a dominant figure on the art scene during the 1950s and 1960s. As the first art teacher at The Berkeley Institute, he inspired a whole generation of Bermudians. Tuckerís larger-than-life personality matched his prodigious talents. Music was his first love. He had embarked on studies in London to become a concert pianist, but the Second World War ended that dream.
---
this month in history




Opening of the Bermuda Railway
October 31, 1931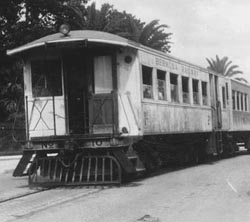 Spectators lined Front Street to witness the official opening of the Bermuda Railway. The 150 guests took their seats in four coaches, Governor's wife Lady Cubitt pressed an electric starter, and the train took off outside Number One Shed on its inaugural trip.

The Bermuda Railway ushered in a faster and more comfortable means of transport for locals and tourists, whose only other options were pedal cycles, horse-drawn carriages and boats.

But the system, known as 'Rattle and Shake' was hampered by controversies and delays, even before the trains began running on the tracks. It was plagued by problems, including corrosion and the high cost of fuel, during its 17-year run and never turned a profit.

For more about the Bermuda Railway, visit The Bermuda Railway Pages website. Informative with lots of photos, it was created by Montrealer Simon Horn, a regular Bermuda visitor and railway enthusiast.