Sir Henry Tucker has been called the architect of modern Bermuda. The powerful banker and parliamentarian played a leading role in business and politics for more than 40 years.
He helped lay the foundation for international business and also founded the United Bermuda Party in 1964. He was made a National Hero in 2011.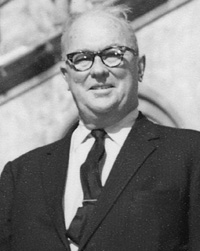 A brief noonday ceremony made it official—the British Government closed down HM Dockyard, its mammoth base in the west end, ending an era lasting nearly 200 years.
Construction of HM Dockyard, which was called the 'Gibraltar of the West', began in 1809 with slaves and free black men, working under the supervision of British engineers, supplying the labour.  
The next set of workers were British and Irish convicts, who were shipped across the Atlantic and holed up in airless hulks moored off Dockyard. Convicts provided the bulk of labour from 1824 to 1863. By the end of the19th Century, workers were being brought in from Jamaica, St. Kitts, Nevis and Saba.
Dockyard, which had its own movie theatre, hospital, church, schools and shops, was of major economic importance to Bermuda, employing more than 1,000 locals.
News that it was to be closed came as a major shock, although the establishment of U.S. bases at Morgan's Point in Southampton and St. David's in 1941 lessened the impact on the economy.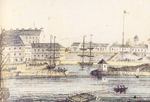 Royal Naval Dockyard in the 19th century.