Despite being blind from infancy, Lancelot Hayward became one of Bermuda's most respected and best-loved musicians. Largely self-taught, he played with most of Bermuda's popular bands of the post-war era as well as fronting his own groups and trios.
During the heyday of Bermuda's hotel and nightclub scene in the 1950s and 1960s, Hayward was in demand as an accompanist by star singers who performed in Bermuda, such as Marvin Gaye, Carmen McRae and Sarah Vaughan.
He performed with jazz legends like Arthur Prysock, Joe Williams, Buddy Rich and George Benson, and in 1987 recorded an album with legendary jazz bassist Milt Hinton. He also appeared on television and radio in the US, Canada, Europe and Japan.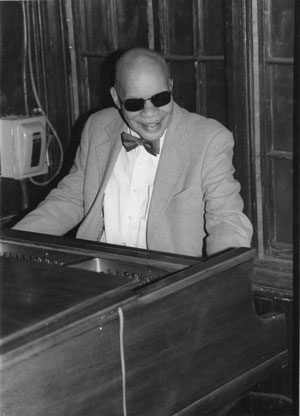 Bermudians' passion for air travel took flight with the inauguration of the first commercial passenger service between Bermuda and New York.
On June 16, 1937, Imperial Airways flying ship Cavalier left Darrell's Island seaplane base at 10:35am—35 minutes behind schedule—for Port Washington, Long Island, New York, with 14 passengers and a crew of five.
Less than an hour later, Pan American's flying ship Bermuda Clipper took off from Darrell's Island in preparation for its first passenger flight in the opposition direction on June 18.
Cavalier's inaugural flight took five hours and 40 minutes and Bermuda Clipper made it to Port Washington in five hours and 47 minutes.
Bermuda globe-trotters never looked back.
Sources: The Royal Gazette, June 17, 1937; Bermuda: Five Centuries by Rosemary Jones
1987 stamp commemorating the 50th anniversary of Cavalier's first commercial flgith from Bermuda to Port Washington.