Community leader Alice Scott left an indelible mark in Sandys Parish. She was a registered nurse who founded a nursing home and a tennis club, a suffragette and one of the first women in Bermuda to run for Parliament. 
Scott was the second Bermudian to train as a registered nurse at Lincoln Hospital in New York,  graduating in 1912. 
She became a legend in the west end after co-founding Sandys Secondary School in 1927. She was its driving force for many years, even mortgaging her home during its early years to raise funds to keep the school open.
Scott, who never married,  threw herself into the battle for women's suffrage, led by Gladys Misick Morrell. She was one of the few black members of the Bermuda Woman Suffrage Society (BWSS), and served on its executive committee.
After women won the right to vote in 1944, the BWSS evolved into Bermuda Women's Civic and Political Association with the goal of getting women elected to Parliament. Scott was one of four women who ran for Parliament in the 1948 general election. Although she did not win a seat, she paved the way for future female Members of Parliament.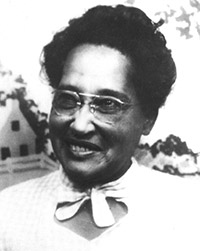 A brief noonday ceremony made it official—the British Government closed down HM Dockyard, its mammoth base in the west end, ending an era lasting nearly 200 years.
Construction of HM Dockyard, which was called the 'Gibraltar of the West', began in 1809 with slaves and free black men, working under the supervision of British engineers, supplying the labour.  
The next set of workers was British and Irish convicts, who were shipped across the Atlantic and holed up in airless hulks moored off Dockyard. Convicts provided the bulk of labour from 1824 to 1863. By the end of the19th Century, workers were being brought in from Jamaica, St. Kitts, Nevis and Saba.
Dockyard, which had its own movie theatre, hospital, church, schools and shops, was of major economic importance to Bermuda, employing more than 1,000 locals.
News that it was to be closed came as a major shock, although the establishment of U.S. bases at Morgan's Point in Southampton and St. David's in 1941 lessened the impact on the economy.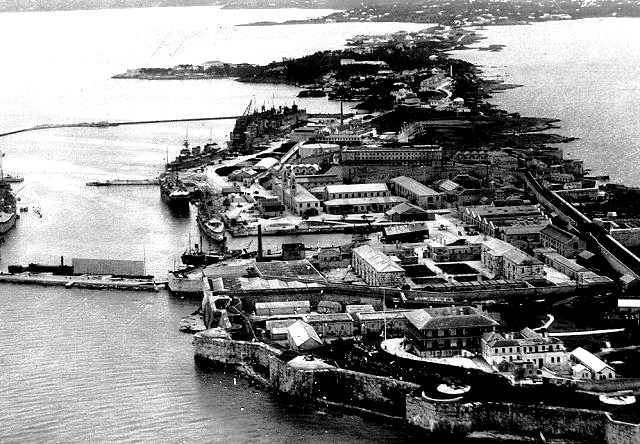 Royal Naval Dockyard in the 1920s.